Gunakan Server Lainnya Jika Server 1 Error. Misal Server 2 atau Server 3.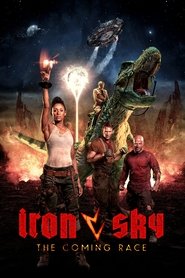 Iron Sky: The Coming Race ( 2019 )
Dua puluh tahun setelah peristiwa The Coming Race, mantan Nazi Moonbase telah menjadi tempat perlindungan terakhir umat manusia. Bumi dihancurkan oleh perang nuklir, tetapi terkubur jauh di bawah tanah gersang terletak kekuatan yang bisa menyelamatkan umat manusia terakhir – atau menghancurkannya sekali untuk selamanya. Kebenaran di balik penciptaan umat manusia akan terungkap ketika seorang musuh lama memimpin para pahlawan kita dalam sebuah petualangan menuju Hollow Earth. Untuk menyelamatkan manusia, mereka harus melawan Vril, ras reptil kuno yang berubah bentuk dan pasukan dinosaurus mereka.
Views: 55
Genre: Action, Adventure, Comedy, Fantasy, Science Fiction
Director: Timo Vuorensola
Actors: Dalan Musson, Julia Dietze, Kari Ketonen, Lloyd Kaufman, Stephanie Paul, Tero Kaukomaa, Udo Kier
Duration: 90 min
Quality: FHD
Release: 2019